Hobart is the Australian state of Tasmania capital city and is the second oldest city in Australia. The longstanding charms of this ancient city are its rich colonial heritage and natural beauty but expect some unexpected funky streak from Australia's most southern city. Here, great festivals, fine restaurants, and trendy bars along with intriguing and edgy MONA make Hobart a burgeoning cultural hub. With a wealth of natural attractions, s dynamic food scene, and daring art, this is a small city with big ideas.
Board a ferry and sail to the daring MONA. This is the largest privately-owned museum in Australia and the art collection here are provocative and eclectic. The food at the onsite restaurant might also qualify as art. The cellar door for the Moorilla winery is directly beneath the restaurant. Here you will find wines produced from the vineyards adjoining the gallery. While here, make sure you try the Moo Brew beer range.
Take a drive from the city center to get to the summit of Mount Wellington, almost 4265 feet (1300 meters) above the city. From here, you will get an exceptional view of Hobart and its surroundings. Grab a coffee at the Brentwood Coffee caravan on your way up and on your way back down, stop at Cascade, the oldest brewery in Australia. If you are feeling energetic, you will find access to beautiful scenery and walking tracks at the Springs below the summit. Also, the Springs is equipped with toilets and picnic facilities.
Visit the Lark Distillery to get a taste of the burgeoning whiskey industry of Tasmania. Pull up a chair at the Hobart Brewing Company or the central Shambles Brewery for a taste of craft beer at the source.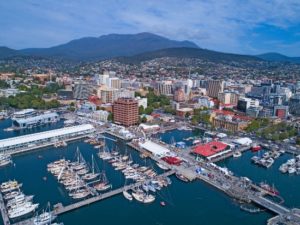 Hobart's culinary scene is a champion of local produce with exquisite restaurants in different corners. Dine with the locals at the popular dining strips in North Hobart or historic Salamanca. You can also choose from a selection of quality waterfront and city restaurants. The chic Franklin is positioned in an old newspaper building. This highly awarded restaurant makes their own cured meats, cheese, and bread.
This city shines along its much beautiful waterfront. A stroll along the docks of the Salamanca Place will take you past the Brooke Street Pier and a replica of Douglas Mawson's huts. The docks fill with yachts every year just a week after Christmas.
The Salamanca Market is loved by both locals and visitors. Over 300 stalls selling produce, homeware, crafts, and arts fill this market. The central Bathurst Street closes on Sunday morning for the Farm Gate Market. It showcases artisan producers and Tasmanian produce.